F
or over 80 years, Island View Resort has stood strong as one of the best cabins for rent in the North Shore. Built on generations of traditions, we strive to keep the spirit and atmosphere of when the cabins were first built alive. We offer 11 individual cabins overlooking the beautiful Lake Superior, each with their own beautiful view. Our cabins that are available to rent vary in size, accommodating any sized group from honeymooners to a large family. Each cabin offers wifi, a coffee machine, cooking utensils, a microwave and a refrigerator. What makes our cabins unique is that each cabin has a different layout as well as different added amenities so you can choose which cabin best suits your needs. Cabins 3, 4, 6, 7, 8, 9, 10 and 11 all include a DVD player for families who want a more quiet, relaxing vacation. Cabins 1, 2, 3 and 4 all include a heated porch for those who want to enjoy the great outdoors but still want protection from the Minnesota weather that the North Shore experiences. Whether you want to try out all of our cabins each time you visit or you find yourself feeling loyal to one cabin in particular, we know you'll be excited to come back again.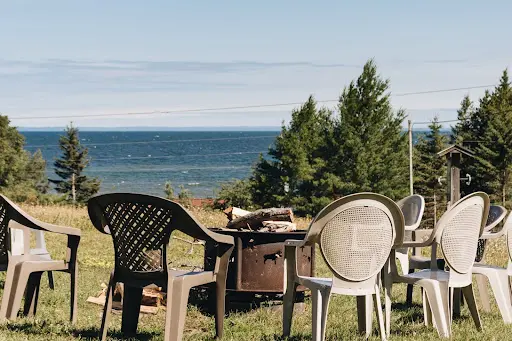 No matter which cabin you choose to rent, each offers access to picnic tables, barbecue grills and our fire pit overlooking the beautiful Lake Superior if you choose to enjoy your entire stay on our property. For those seeking adventure, our cabins are located just a short drive from many wonderful attractions that the North Shore has to offer.
What are you waiting for? Book your next adventure with Island View Resort today!