A TRIP IN TIME
In the early 1900's Grandpa Carl Erickson came from Norway to start a commercial fishing business in Knife River, MN. In the 30's he saw the need for tourist accommodations and built Island View Resort . Island View is now owned by Carl's grandson Bob and his wife Sheryl. Bob grew up in Cabin #7. Construction of the cabins was started in the late 1930's and all 10 cabins plus the shower house (which is now our office) were complete in the late 40's. The resort was originally called "Pine Ridge Cabins."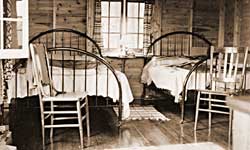 Grandpa Carl and Grandma Roseina Erickson along with family built and ran the resort until 1969 when their Aunt Jackie and Uncle Hans Ojard bought the resort and operated it. In 1988, friends of Jackie and Hans, Dick and Kathy Johnson bought the resort and it was a perfect fit. Dick was the handy person who could make or fix anything and Jackie thought Kathy was ideal because she had "cleaning experience". They carried on the quality of traditions of what started as Pine Ridge Resort then Erickson's Resort and now Island View Resort. Bob and Sheryl bought the resort in 2005. **The property across the road (private now), with the two smaller buildings on, is where the "fish-house and net-house" were. Carl and Hans were both commercial fisherman. You can see their boat, the Crusader II, on display in Two Harbors at the Lighthouse. Many changes have taken place over the years – plumbing and bathrooms were added. In 1952 the bare studs were covered over with sheet rock to finish off the interiors. Screened porches were closed in to make them useable year round. Propane heaters were put in to replace the wood burners. Cabins were all painted yellow, but in the 50's when fishing on Superior dropped off, Carl decided to paint all the front doors of the cabins red in hopes of attracting the attention of people driving by. Construction of the cabins was started in the late 1930's and all 10 cabins plus the shower house (which is now our office) were complete in the late 40's. The resort was originally called "Pine Ridge Cabins."
Visitors
Cabins are reserved for registered guests only. If you are considering having visitors at the cabin, they must be pre-approved by management.

Pets Policy
A limited number of pets will be allowed at the resort at the same time. Cabins #1, #5, #6 and #9 may be pet friendly cabins.
Check In & Out
Check-In——any time after 4:00 p.m. Map will be on the office door. Go to the cabin and the key will be on the kitchen table. Check Out—-by 10:00 a.m.
Cancellation
A cancellation fee of $45.00 is charged for all cancellations made at least 30 days in advance of the reservations first night stay.

Rates
Rates quoted are per night and based on 1 or 2 person occupancy and subject to state sales tax. We do not add a resort tax or maintenance fee.

Special Offers
GIFT CERTIFICATE are Available upon request for that special person or occasion. Get a discount :Stay 7 days—pay for 6 days.